Up till recently, I would not have been caught dead wearing a pair of culottes. It's not that I hated them – in fact, I loved everything about them… except when they were on me. The thing about culottes is that they have the very real potential to be the most unflattering garment ever. I can't even remember how many times I've put on a pair of wide-legged culottes only to take them right off again because (a) it made my child-bearing hips look bigger than they already were and (b) the below-knee length made my legs look shorter than ever before! It wasn't long before I wrote this trend off as a "model-only" look… but I was wrong. Boy, was I wrong.
Some of you may have been following along with my wardrobe architect journey (soon to be continued – I'm sorry it's been a while!), and it's been really helpful for identifying the kind of silhouettes and shapes that work for me. When trying to decide how to style my Itch to Stitch Emily Culottes, I applied some of the concepts I learnt through the WA Challenge and realised it makes a HUGE difference when I follow a few simple styling rules that I'll be sharing with you guys today.
Now I'm not claiming to be a style expert and I'm not saying that all these tips will work for everyone – the aim of this post today is to share a little about the styling rules I've employed to make the culottes trend work on my 5′ 3″ pear-shaped frame. I'm hoping that these tips will help encourage some of you to give this trend a shot and will be useful in helping you to figure out what works on your body and what doesn't! Alright, ready? Here we go!
Rule #1. Dark colours on the bottom, light on the top.
Let's start with basics, shall we? Everyone knows that dark colours have a slimming effect and light colours have a broadening effect, but sometimes we forget that this applies to loose clothing as well.
As you can see from my first version of the Emily Culottes, I was too romanced by the idea of white culottes that I forgot my own rule and made one up in a oyster-toned cream. Below you can see what a huge difference a dark top and light pants make to my appearance as compared to a lighter coloured top and dark pants.
Rule #2. Always mind your proportions. 
This is something that a lot of you may have heard of or already apply in your styling. Personally, it took me 23 years to even begin to understand this concept and I'm still learning more about it every day! Your proportions play a huge role in determining how you appear – we can look shorter or taller, bigger or leaner, more bootylicious or less, all based on how we allow our clothing to dictate our proportions.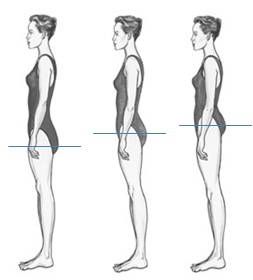 For instance, if you know you have a long torso, wear your culottes higher waisted to balance out your proportions. This should also have the added advantage of letting the culottes sit at the smallest point of your waist, thereby accentuating the fit and flare silhouette. Conversely, if you have a short torso, wear them at your natural waist or lower to make it seem like you have a lower waistline and to balance out your longer legs (lucky you!).
I included two pictures of Posh (aka VB aka Queen of Not-Smiling) so that you could see how wearing a pair of culottes higher waist or lower waist makes a difference to a person's proportions. Note how Posh looks like she has a slightly longer torso in the middle picture, and a slightly stunted torso in the right hand side one. (I can't believe she looks great in both photos, what IS she?!)
Rule #3. Fit & Flare
Fit and flare is one way I manage my proportions and balance out my figure. Since culottes are usually flared or loose fitting, I pair them with a fitted top to balance out my figure. The interesting about culottes for pears, is that if your culottes are structured and voluminous enough, they can actually hide the size of your hips! Paired with a fitted top, this means that you will overall look slimmer.
My favourite look is to pair my Emily Culottes with a crop top (though this houndstooth one reveals a little too much of my belly for my liking), as it doesn't need to be tucked in and therefore eliminates bulk at the waistline. This creates an illusion of a slimmer waistline (when measurements-wise, I don't have a clearly defined waist!) which is always a good idea.
If you're uncomfortable with fitted tops or crop tops, then by all means pick a longer top with a looser fit! Just make sure your top is fitted at the shoulders or the sleeves, like this boxy top below…
Or sleeveless, to balance out the overwhelming amount of coverage you're getting below the waist.
I've seen quite a few pictures on pinterest where culottes are styled with an oversized top and sweater – and those people look great! But from what I've experimented on myself, that style doesn't work for me, as it only seems to add bulk on my frame. Nevertheless, if you think that style works for you, go for it! It's all about what you feel good in.
Rule #4. The longer the pants, the higher the heel.
This is a rule that I live by and apply universally across ALL my outfits. As I mentioned in one of my Wardrobe Architect posts, long bottoms (i.e. below the knee) create the appearance of shorter legs. By wearing heels, you restore your proportions and create the illusion of a longer leg. (Plus, if you've got thunder thighs like me, heels also help to create the appearance of a longer, leaner leg.)
Compare how I look wearing heeled loafers vs flat loafers in the picture above. It doesn't look bad, but my legs look longer and overall, I look more proportionate in the left picture than on the right. (These pictures were taken within an hour of each other… I have no idea why I look so different??)
Also, is it just me but does wearing culottes with flats automatically make one seem like they're either channelling the boho vibe or the japanese look?
There's nothing wrong with the boho or japanese styles, but they just aren't for me. If you love them, then more power to you! You get to wear your culottes with comfy flats while my toes get pinched and blistered for the sake of vanity (cue crying emoji).
Note: Conversely, the shorter the hemline, the lower the heel. When a skirt or shorts hits more than 2 or 3 inches above the knee, I opt to wear flats – this helps to tone down the skankiness of the outfit and is also a LOT more comfortable! This may be why I am able to get away with wearing kitten heels in these pictures – because my culottes are only knee length!
Rule #5. Experiment on yourself!
And last, but certainly not least, if there is only one rule you should remember… it's that there are no rules! I know this is extremely lame and cliched, but it IS true. Nobody should dictate how you dress, or what you feel comfortable in – what's important is that YOU feel good about how you look.
Some of the places you can look to for help are fashion websites or pinterest for inspiration on how to style your clothing – just remember that what works for fashion bloggers and models may not look or feel right on you or me, which is fine! With a little time and experimentation you'll be able to identify what shapes and styles look good on you, even when it's someone else wearing it (psst, this also helps with online shopping!). I've put together a pinterest board of culotte styles that I really love and will be trying out here – check it out if you're interested!
Plus… if you're loving my culottes, the pattern is still on sale over on Itch to Stitch's website! To read my review on the pattern, click here. 
If you've got a pinterest board of your own or recommendations to style or fashion blogs, feel free to share them with me in the comments below, I would love to see them! Also, if you would like to see more of these posts or recommendations on articles for proportions and styling that I've found useful, shout out and let me know!
Note: All photos used in this post that do not belong to me have been sourced from my pinterest board here.