It's one of my big goals for this year to take part in Me-Made-May… the only problem is that most of my me-made clothes are casual garments, and I will inevitably be spending a large part of the month of May sitting around an office. This means that as of late I have been focussing my sewing efforts on creating a me-made work wardrobe that I would feel proud to let my colleagues (& bosses) see me in.
Since the #WAChallenge2015 assignment for the month of March is to identify holes in your wardrobe and make plans to fill them in, I thought that this would be a perfect opportunity to sketch out a rough plan of the work outfits I want to have made by the time May rolls around. It also helps that the folks over at PatternReview.com are clairvoyants of some sort and have very obligingly assigned The Wardrobe Contest as the competition of choice for the month of April!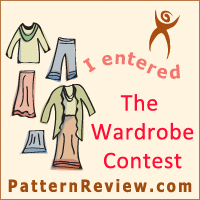 This means that in the next 6 weeks or so, I will be sewing a grand total of 9 garments: 4 tops, 3 bottoms and 2 garments of choice. I'm part terrified, but also really excited (though I do have this niggling doubt at the back of my mind that I'll be able to get all of that done in such a short amount of time).  Nevertheless, as good ol' Churchill said "He who fails to plan is planning to fail", so plan I shall, and plan I have. If you'd like to see what I'll be sewing up in the next couple of weeks, then keep on reading!
In addition to the difficulty of the make, my main consideration was practicality and whether I would get actual wear out of my me-made garments. I thought about the kind of clothing I currently wear to work, and the various factors that may impact whether a certain item of clothing gets more heavily rotated than others. These were my choices:
Tops 
THE PLAN: 2 x Sewaholic Pendrell Blouse, Colette Laurel Top and Sewaholic Oakridge Blouse
Though I love me a nice shirt, I've never made one before and so I thought it would be too much of a challenge to produce a good quality one in the limited time I have. Also, given Singapore's sweltering heat, I tend to stick with short or sleeveless tops most of the time which is why I've opted to make 2 Pendrell tops. I might change my mind though, if I figure out how to take the sleeves off the Oakridge… a sleeveless pussy-bow blouse sounds right up my alley!
Bottoms
If you've been around here a while, you may have noticed that I've been on a pencil skirt kick recently, beginning with this
denim number
and more recently, the
poinsettia pleated skirt
. As much as I like
Delia's pattern
, I just feel that the proportions aren't spot on for me. I'm still on the hunt for a great pencil skirt pattern and I'm grabbing this chance to make up two highly raved about patterns – BHL's Charlotte and Sew Over It's Pencil Skirt patterns.
I also can't wait to sew up the Hollyburn which I've been putting off FOREVER. I already have the perfect fuchsia poly suiting for it – CAN'T WAIT.
Sewist's Choice
One of the requirements of the Wardrobe Contest is that all items sewn have to match each other. This is where the versatility of the Oslo Cardigan comes in. Plus, with the estimated total production time being a mere 2 hours, it will go a long way to helping me meet my target 9 garments.
As for the dresses… quite frankly it's a toss-up between the two. I haven't muslined either of the dresses, so I feel slightly inclined towards the Laurel since I would have fitted it as a top already. However, I will be attending a cousin's wedding in May that I'm dying to wear the Emery dress to… talk about first world sewing problems.
So that's it! My very brief sewing plans for the upcoming weeks. Wish me luck – I'm so excited to get started!
PS. Can you believe that ALL of these patterns are from my pattern stash?! If all else fails at least I'd have conquered some of my "to-sew" list.